Welcome to Falls Patio Players
Located in Menomonee Falls, Wisconsin, Falls Patio Players has been entertaining audiences of all ages in southeastern Wisconsin for over 50 years. It all started when a group of like-minded community members got together at North Middle School, and decided to form a theater group while looking over the patio – and poof – Falls Patio Players was born! We are a volunteer run, nonprofit organization that loves to have fun, while putting on quality entertainment. Please, take a look around, ask questions, and get involved! See you at the theater!
Falls Patio Players 2022-2023 Season
While the current events have changed the way we experience the arts, Falls Patio Players is still excited to announce some very special opportunities! We are navigating these strange times together, and we will make every effort to bring you the top-notch entertainment you've come to expect from us for the 2022-23 season. To support Falls Patio Players in continuing to provide quality theater opportunities to individuals of all ages, please consider supporting our non-profit theater through tax-deductible donations. Tickets are also available for purchase for all 2022-2023 Season performances.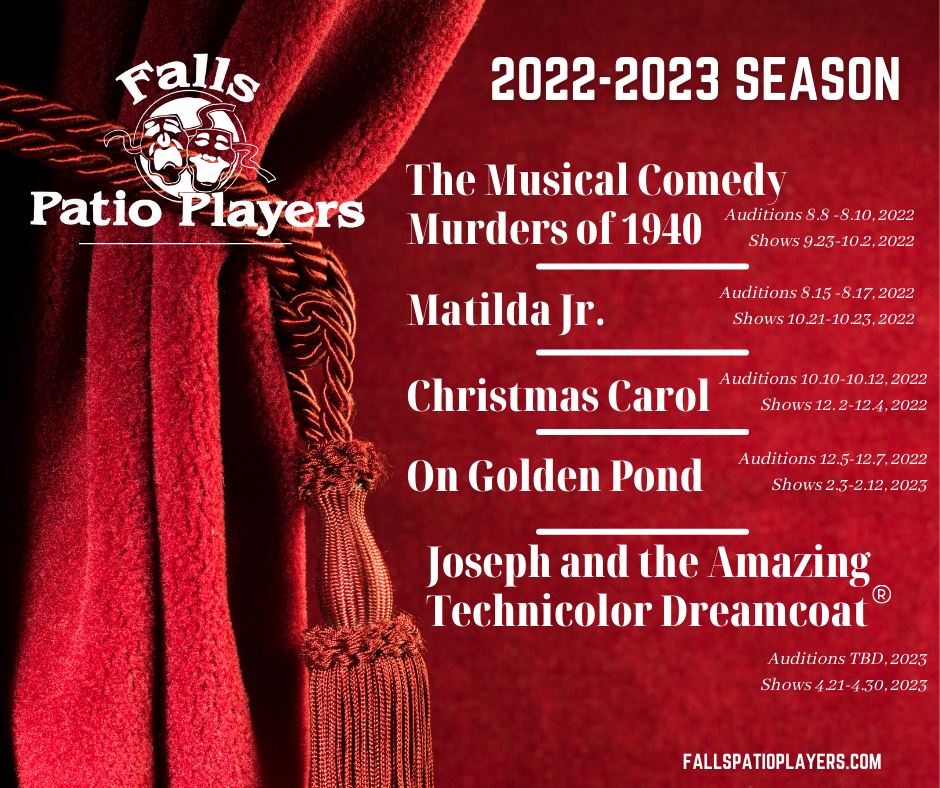 Join us for our 2022-2023 Season!
Please Note: Falls Patio Players is invested in our community, including the safety of our patrons, performers and volunteers. As such, all performances will be subject to CDC COVID requirements that are deemed relevant at the time of the event. The current pandemic is fluid, and Falls Patio Players intends to be responsive to available guidance to ensure necessary precautions are in place.