SPAMALOT
A new musical lovingly ripped off from the motion picture MONTY PYTHON and the Holy Grail.
Book any lyrics by Eric Idle
Music by John Du Prez & Eric Idle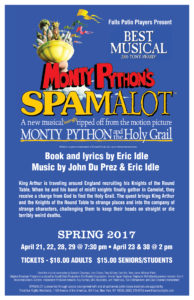 Lovingly ripped off from the classic film comedy MONTY PYTHON AND THE HOLY GRAIL, SPAMALOT retells the legend of King Arthur and his Knights of the Round Table, and features a bevy of beautiful show girls, not to mention cows, killer rabbits, and French people. Did we mention the bevy of beautiful show girls?  The 2005 Broadway production won three Tony Awards, including "Best Musical," and received 14 Tony Award nominations.
King Arthur is traveling around England recruiting his Knights of the Round Table.  When he and his band of misfit knights finally gather in Camelot, they receive a charge from God to find the Holy Grail.  The quest brings King Arthur and the Knights of the Round Table to strange placement and into the company of strange characters, challenging them to keep their heads on straight or die terribly weird deaths.
2017
FRIDAYS & SATURDAYS:
April 21, 22, 28, 29  @ 7:30 PM

SUNDAY MATINEES:
April 23, 30 @ 2:00 PM  

Tickets available online – come laugh with us!
• $18.00 ADULTS
• $15.00 SENIORS/STUDENTS
For more information on sponsorship and to purchase season tickets visit our tickets page.