Get Involved
At Falls Patio Players nothing could get done without our dedicated group of volunteers, and we would love to have YOU join us! Not sure what interests you? Check out the list of possibilities below. Get in touch – visit our  contact information page for email and phone details.
Upcoming Auditions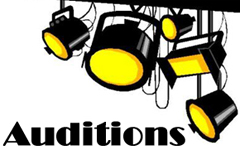 Auditions are held at the North Middle School Auditorium in Menomonee Falls, which is on the corner of Main St. and Appleton Ave. Doors open at 6:30pm, and auditions start at 7:00pm. Please click here for a map detailing parking information, and entrances.
Christmas Carol Audition Information:
Falls Patio Players will hold open auditions for the musical "Christmas Carol" on October 2nd and 4th, 2017. We are looking for a large and varied cast of children and adults ages 7 to 70. Auditions for those ages 15 and up will be held on Monday, October 2. Auditions for youths ages 7-14 will be held on Wednesday, October 4th. Call backs, if necessary, will be held on Thursday, October 5th   Performance dates are December 1, 2 and 3. Cast members must be available for school shows during the day on Friday, December 1st.  Prepare 16 bars of a song in your key and bring sheet music; an accompanist will be provided. Please bring sheet music with actual accompaniment – not just a melody line. Tape recordings and unaccompanied singing will not be permitted. Please wear shoes suitable for dancing and be prepared to list rehearsal conflicts.  Auditions will be held in the North Middle School Cafeteria. For more information, visit www.fallspatioplayers.com or contact the director, Karen McKinney, at reetzmckinney@gmail.com
Current Volunteer Positions
COSTUME SHOP The Costume crew works with the costume chair to organize and prepare costumes during the show. In shows with many costumes there is work to be done right away, such as measuring cast members to pair them with existing costumes, sewing new ones as needed and repairing or altering ones from storage. No previous backstage experience is necessary. Sewing skills are always needed and welcome, but not necessary.
SET CONSTRUCTION/ STAGE CREW Any number of volunteers are needed to help build sets under the direction of the technical director. Work nights are typically Tuesday and Thursday nights, 6 weeks prior to a show, and occasional weekends, but come when you can. No special skills are necessary. Painting or a special technique will be taught. Tools and equipment are provided. STAGE CREW– Moving set pieces or working the fly rail during shows (usually requires your presence at every show for the work assigned to you).
HOUSE MANAGER The house manager oversees the lobby and all patron areas during performances, and is available for audience emergencies. This position is responsible for explaining what is needed to new ushers, generally helping where needed in the lobby and overseeing sales at the concession stand. The house manager communicates with the stage manager about when to open lobby doors and dim lights after intermission. Usually assigned to one of the ushers signed up for each show by the usher coordinator.
USHERS A crew of 8 to 12 ushers is needed for each show. Ushers come to the theatre 45 minutes before curtain and show people to their seats. Ushers sell concessions before and after show and during intermissions. No previous experience is necessary. Ushers are able to see the show for no charge in any available seats left after patrons are seated. We ask that they wear a white top/shirt and black bottoms- no jeans or tennis shoes please.
BOX OFFICE VOLUNTEER Volunteers staff the box office for about 1 hour before each performance. They sell tickets, provide exchanges, hand out 'will call' tickets and in general, serve as customer service representatives.
PUBLICITY HELPER Help with putting up posters around town about a month before shows. Also, help post the shows under event calendars on various web sites.
MEMBERSHIP The Falls Patio Players also gives the opportunity to become a member of our theater group. The yearly fee includes our quarterly newsletter, invitations to our membership meetings and an opportunity to request show tickets before the general public. If any of the above areas are of any interest to you, please take some time to fill out the requested information on the following page and send to Falls Patio Players, PO Box 904, Menomonee Falls, WI 53052 or e-mail as an attachment to . Thank you!
Don't see something? It doesn't mean we don't need it!  Email us to let us know how you would like to get involved with the Falls Patio Players community theater.