Get Involved
At Falls Patio Players nothing could get done without our dedicated group of volunteers, and we would love to have YOU join us! Not sure what interests you? Check out the list of possibilities below. Get in touch – visit our  contact information page for email and phone details.
Upcoming Auditions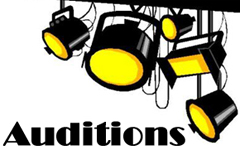 Auditions are held at the North Middle School Auditorium in Menomonee Falls, which is on the corner of Main St. and Appleton Ave.  Please click here for a map detailing parking information, and entrances.
"The Musical Comedy Murders of 1940" Audition Notice and Information  
Falls Patio Players will hold open auditions for "The Musical Comedy Murders of 1940" on Monday, August 8  and Tuesday, August 9 in the Choir Room at North Middle School in Menomonee Falls. Call Backs to be held  August 10, if necessary. Registration begins at 6:30; auditions begin at 7:00. Audition forms are available here or at the theater the night of auditions. North Middle School is at N88 W16750  Garfield Dr. Enter the Choir Room from the Auditorium Lobby. No preparation is necessary. Auditions will be  comprised of reading from the script. All roles are open.  
Performances are September 23, 24, 25, 30 and October 1, 2, 2022. Any questions can be sent to the Director,  Andrea Ewald, at .  
"The Musical Comedy Murders of 1940" Brief Description:  
The creative team responsible for a recent Broadway flop in which three chorus girls were murdered by the  mysterious "Stage Door Slasher" assemble for a backer's audition of their new show at the Westchester estate  of a wealthy "angel." The house is replete with sliding panels, secret passageways, and a German maid who is  apparently four different people—all of which figure diabolically in the comic mayhem which follows when the  infamous "Slasher" makes his reappearance and strikes again—and again. As the composer, lyricist, actors,  and director prepare their performance, and a blizzard cuts off any possible retreat, bodies start to drop in  plain sight, knives spring out of nowhere, masked figures drag their victims behind swiveling bookcases, and  accusing fingers point in all directions. A side-splitting good time!  
Characters: (ages flexible except as noted)  
Helsa Wenzel – The Maid—or is she?  
Elsa Von Grossenkneuten – Owner of the Estate and patron of the arts  
Michael Kelly -The Police Sargeant  
Patrick O'Reilly – an Actor  
Ken De La Maize – the Director  
Nikki Crandall – a Showgirl (20's)  
Eddie McCuen – an actor/comedian (20's)  
Marjorie Baverstock – the Producer  
Bernice Roth – the Librettist  
Roger Hopewell – the Composer 

Matilda Jr. Auditions
Auditions open to all students ages 7 to 15. Direction and choreography by Ami Majeskie. Music direction by Cassie Wilson. Auditions will be held at the North Middle School Auditorium.
Vocal auditions will be held August 15 and 16 6:00 pm-8:00 pm. You only need to sign up for one vocal audition time slot on one of the days. (Sign up HERE.) Please prepare a 32 bar cut or 1 minute cut of a song of your choice and bring sheet music for the accompanist. A Capella auditions are discouraged. No Hamilton please! You will fill out an audition form at your vocal audition. Please be prepared to list any and all known conflicts with the rehearsal schedule.
There will be a required dance audition on August 17 6:00-7:00 pm. Please come in clothes and closed toed shoes that you can move and dance in. No bare feet or socked feet. Students will learn a section of a dance as a group and then perform it in small groups. Following the dance call, there will be invited callbacks 7:00-8:00pm. Students will receive an email the night before letting them know if they need to stay for callbacks. They will not need to prepare anything. Callbacks will consist of reading from the script and some possible singing. Getting a callback does not mean you have been cast, and vice versa. A callback is just for people we need to see more from.
Rehearsals will begin the week of September 5 and will be held Tuesday-Thursday 6:00 pm-8:00 pm. Students will not be called to every rehearsal and may not be called for the entire rehearsal. Dates of the show are: October 21, 22, and 23. Students must be available for all performances. If you are unable to attend auditions or have any questions, please email the director and choreographer, Ami Majeskie, at 
Current Volunteer Positions
COSTUME SHOP The Costume crew works with the costume chair to organize and prepare costumes during the show. In shows with many costumes there is work to be done right away, such as measuring cast members to pair them with existing costumes, sewing new ones as needed and repairing or altering ones from storage. No previous backstage experience is necessary. Sewing skills are always needed and welcome, but not necessary.
SET CONSTRUCTION/ STAGE CREW Any number of volunteers are needed to help build sets under the direction of the technical director. Work nights are typically Tuesday and Thursday nights, 6 weeks prior to a show, and occasional weekends, but come when you can. No special skills are necessary. Painting or a special technique will be taught. Tools and equipment are provided. STAGE CREW– Moving set pieces or working the fly rail during shows (usually requires your presence at every show for the work assigned to you).
HOUSE MANAGER The house manager oversees the lobby and all patron areas during performances, and is available for audience emergencies. This position is responsible for explaining what is needed to new ushers, generally helping where needed in the lobby and overseeing sales at the concession stand. The house manager communicates with the stage manager about when to open lobby doors and dim lights after intermission. Usually assigned to one of the ushers signed up for each show by the usher coordinator.
USHERS A crew of 8 to 12 ushers is needed for each show. Ushers come to the theatre 45 minutes before curtain and show people to their seats. Ushers sell concessions before and after show and during intermissions. No previous experience is necessary. Ushers are able to see the show for no charge in any available seats left after patrons are seated. We ask that they wear a white top/shirt and black bottoms- no jeans or tennis shoes please.
BOX OFFICE VOLUNTEER Volunteers staff the box office for about 1 hour before each performance. They sell tickets, provide exchanges, hand out 'will call' tickets and in general, serve as customer service representatives.
PUBLICITY HELPER Help with putting up posters around town about a month before shows. Also, help post the shows under event calendars on various web sites.
If any of the above areas interest you, send us a message at to get connected!
MEMBERSHIP The Falls Patio Players also gives the opportunity to become a member of our theater group. The yearly fee includes our quarterly newsletter, invitations to our membership meetings and an opportunity to request show tickets before the general public. Want to join! Complete your membership information and payment here.
Don't see something? It doesn't mean we don't need it!  Email us to let us know how you would like to get involved with the Falls Patio Players community theater.