Christmas Carol
An Original Musical Play By:
Carol Klose & Jack C. Strawbridge
Based on Charles Dickens' "A Christmas Carol"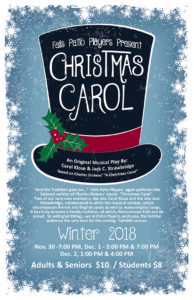 And the Tradition goes one…" Falls Patio Players again performs the beloved version of Charles Dickens' classic "Christmas Carol". Two of our very own members, the late Carol Klose and the late Jack Strawbridge, collaborated to write this musical version, which encompasses French and English carols as well as many original songs. It has truly become a family tradition, of which, Menomonee Falls can be proud. So with glad tidings, we at Patio Players, wish you, the faithful audience the very best for the coming Yuletide season.
2018
FRIDAY & SATURDAY Evenings:
November 30/December 1 @ 7:00 PM

SATURDAY & SUNDAY Matinees:
December 1 @ 3:00 PM
December 2 @ 1:00 PM  & 4:00 PM  

**Tickets available to schools and senior groups for four day performances on Friday, November 30th, 2018. Contact the Ticket Office at 262-255-8372 or fallspatioplayers@gmail.com for more information.
• $10.00 ADULTS/SENIORS
• $8.00 SENIORS/STUDENTS
For more information on sponsorship and to purchase season tickets visit our tickets page.